cork wallet
Are you looking for a wallet that is not only practical, but also environmentally friendly and a real eye-catcher? Then you should definitely take a look at the cork wallets from Spaceproducts! Learn more about the fascinating advantages and properties of cork as a wallet material and discover the perfect model for your taste!
Regular price

$32.00 USD

Sale price

$23.00 USD

Unit price

per

Regular price

$32.00 USD

Sale price

$28.00 USD

Unit price

per
Cork wallets from Spaceproducts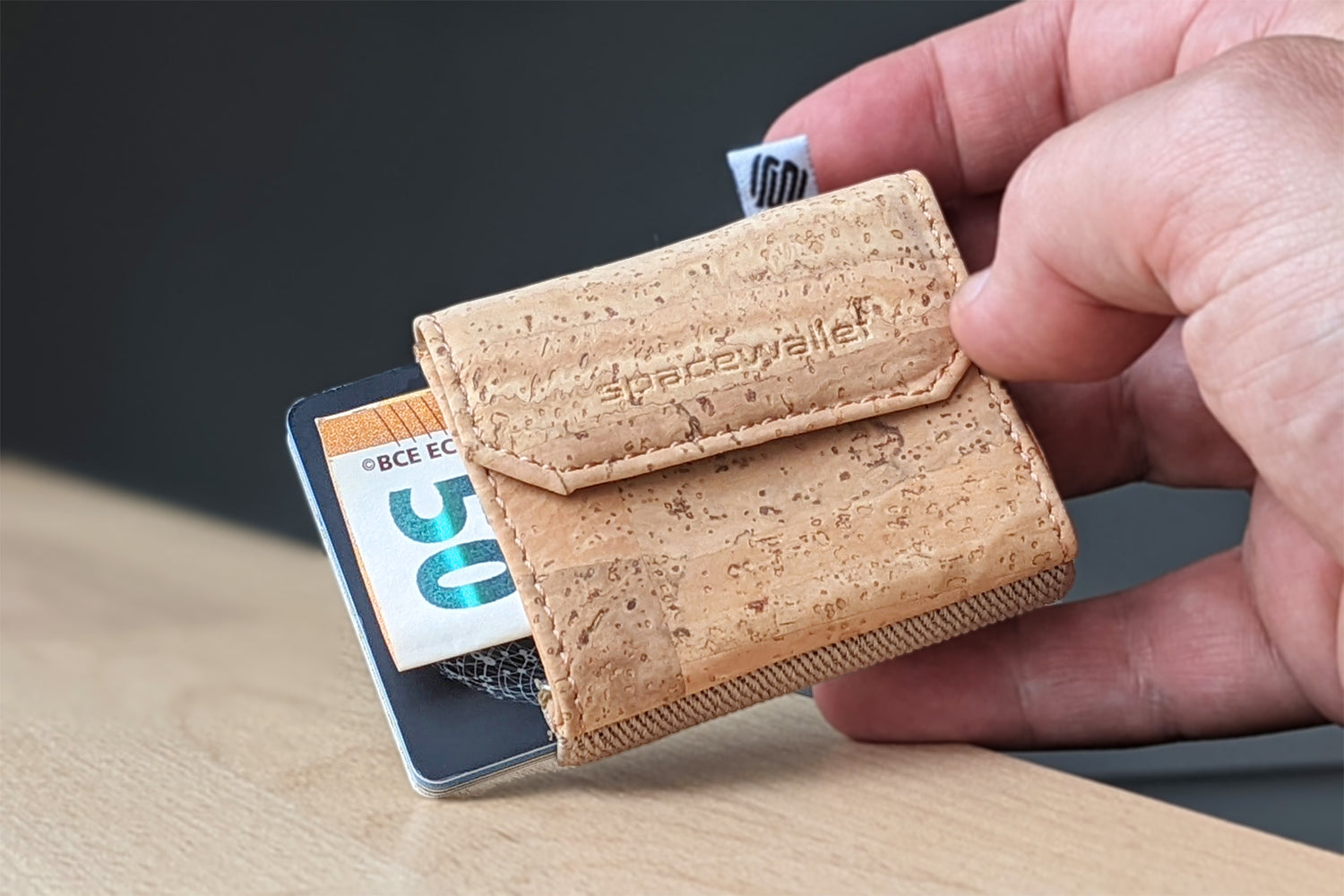 Cork wallet:sustainability of the highest quality
Cork is a material obtained from the bark of the cork oak and is therefore 100% natural. In contrast to leather, no animals are killed in the production of cork leather and the production is much gentler on nature and the environment. In addition, cork is known for its longevity and robustness, which is why purchasing a cork wallet will give you a lot of pleasure for a long time. Due to the natural nature of the material, each cork wallet is unique. Another advantage of cork is its feel - it feels pleasantly soft and feels good in the hand. Wallets made of natural cork are currently among the trendiest accessories. In our online shop you will find a large selection of cork wallets, so that you will always find something that suits your individual taste and style. A big plus:cork is one of the most sustainable resources in the world, as cork oaks store up to 30% more CO2 than other trees. This means that buying cork wallets helps reduce carbon in the atmosphere and protect our planet.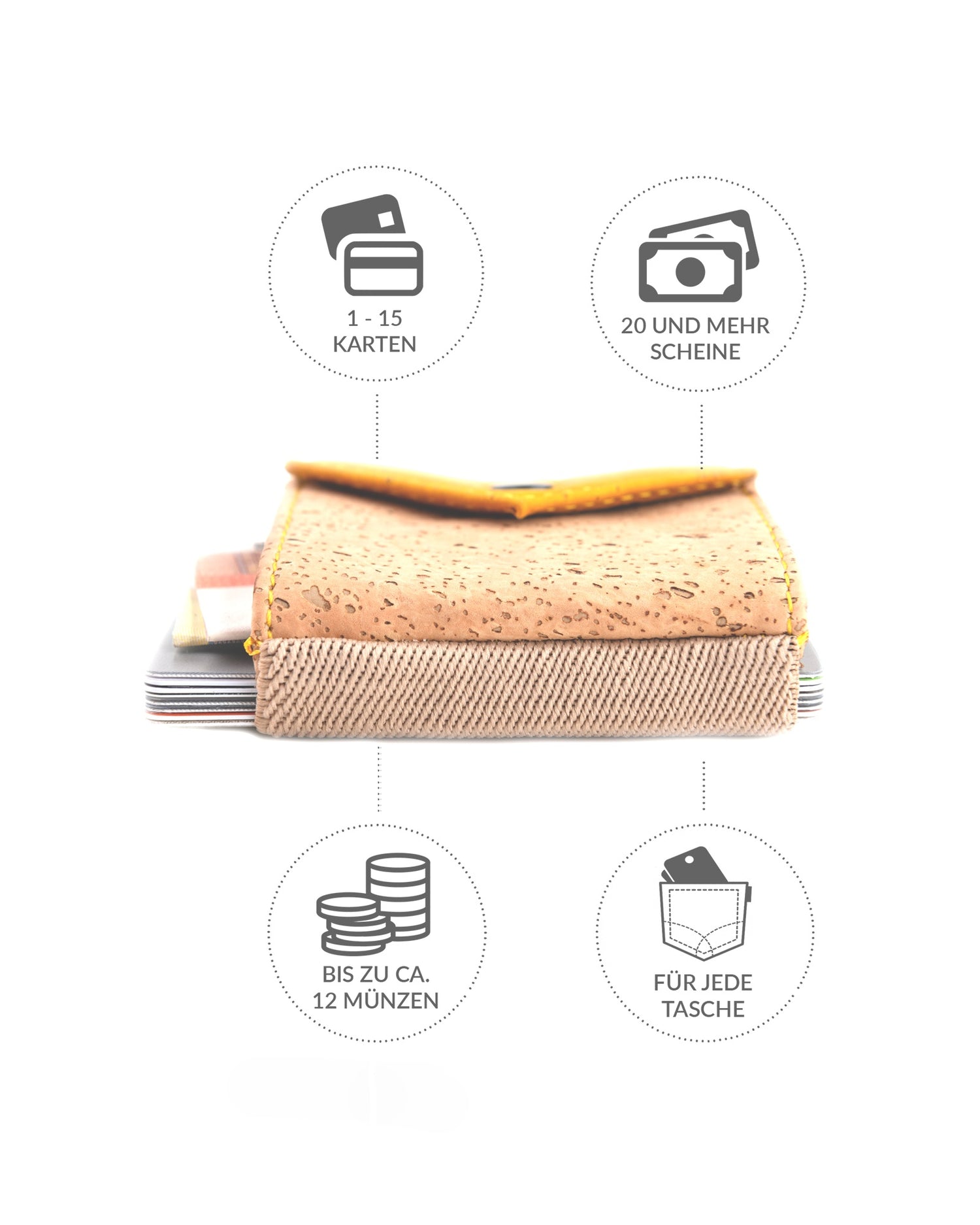 Buy the perfect cork wallet
Buy the perfect cork wallet If you want to buy or order a cork wallet, you should pay attention to first-class workmanship and quality. Also, check out the descriptions and photos of Spaceproducts cork wallets to make sure the wallet fits your needs. The cork wallets are available in many different colors and designs:no problem finding a wallet that best suits your outfit and style. Some wallets are even made from a combination of several types of high-quality cork, which looks good and creates a unique style. The price of cork wallets varies depending on the design, but they are often cheaper compared to other leather wallets.
frequently asked Questions
How long does cork last?
Cork is a very durable material and can last for decades with proper care. However, the durability depends on various factors such as the quality of the cork, the processing and use. It is important to protect the cork wallet from direct sunlight and moisture and to clean it regularly with a damp cloth. If you take good care of it, you can enjoy it for a long time and it will accompany you practically and sustainably through everyday life for many years.
What types of wallets are there?
There are a variety of wallet styles that cater to different needs and preferences:Some of the most common are bi-fold or tri-fold design wallets, which can be easily stowed in a pocket. In the practical and space-saving pocket format, there are also leather wallets, vegan wallets and the slightly larger, stylish belt bags.
How is cork processed?
The bark of the cork oak is peeled off at an interval of nine years without damaging the tree. After harvesting, the cork is cut into blocks, which are then used to make various products, including wallets. The cork material is water-repellent, light and durable and is often combined with high-quality leather and other materials to create durable and elegant wallets.