key case
In hectic everyday life, it can quickly happen that things get messy in your bag and you lose track - and of course your keys, usually exactly when you are in a hurry. In such situations, a key case is the perfect solution for you. Our stylish key cases not only organize your keys so that you always have them to hand, the small accessory can also be conveniently stowed in any handbag, trouser pocket or jacket pocket!
Regular price

$29.00 USD

Sale price

$19.00 USD

Unit price

per

Regular price

$38.00 USD

Sale price

$29.00 USD

Unit price

per
Key case by Spaceproducts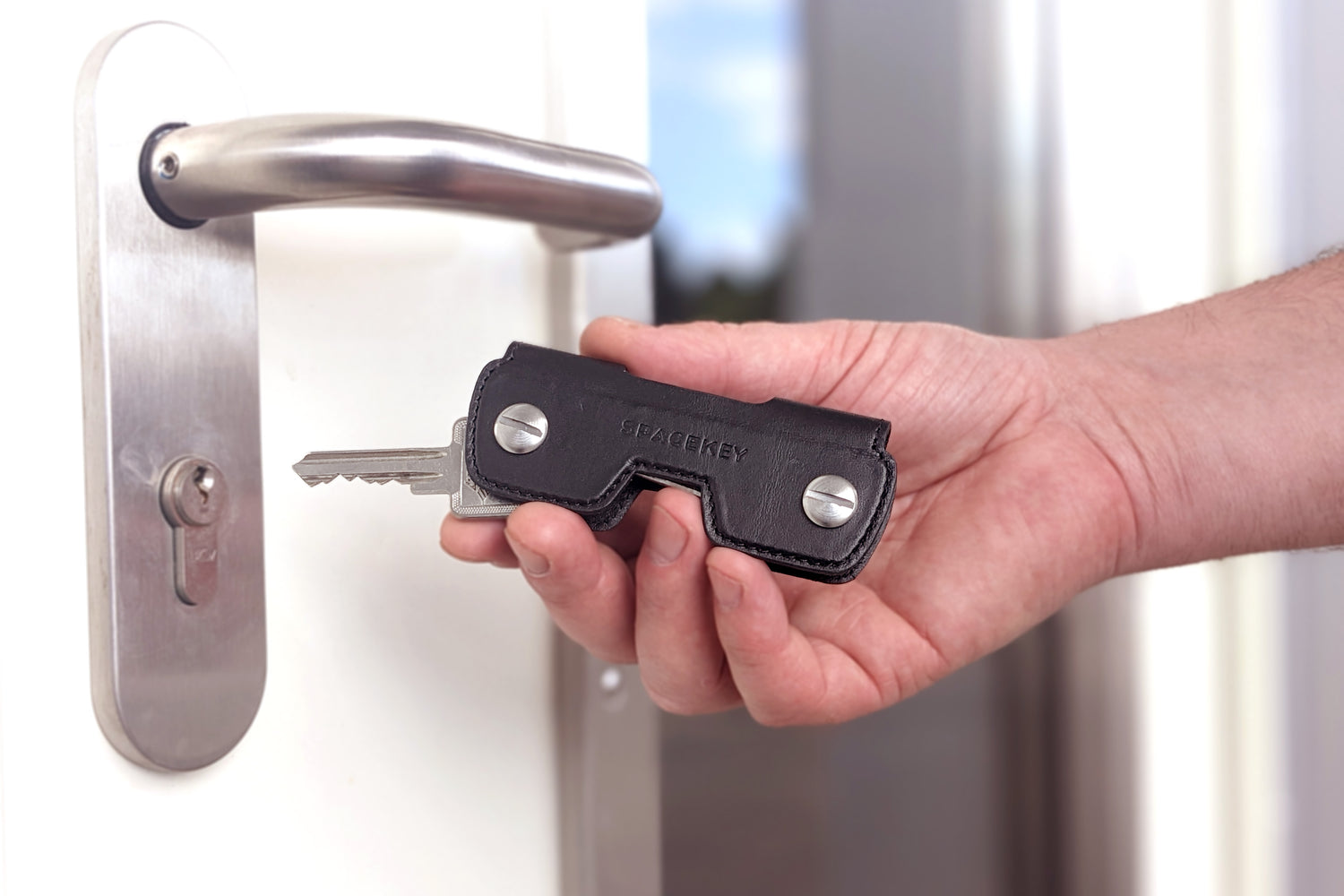 Space Key key case:Practical and ingenious organizational talent
Ein Schlüsselring oder Schlüsselbund kann oftmals sperrig, spitz und unangenehm schwer sein. Das genaue Gegenteil ist bei den Spaceproducts Schlüsseltaschen der Fall: Unsere einfache aber geniale Schlüssellösung ist ein modernes Schlüsseletui, das deine Kleidung und Taschen schützt, gleichzeitig leicht ist und Ordnung schafft. Deine Schlüssel sind von nun an übersichtlich und aufgeräumt, alles ist an seinem Platz und nichts klappert. Durch die hochwertig verarbeiteten und angenehm weichen Materialien werden außerdem empfindliche Oberflächen, wie zum Beispiel von deinem Handy, besser vor Kratzern geschützt. Des Weiteren sind Schlüsseletuis überaus praktische Begleiter: Unsere Modelle sind so designt, dass sie wenig Platz benötigen und trotzdem alle deine Schlüssel perfekt organisieren - und das ganz ohne Reißverschluss. Auch als Geschenk eignen sich die schicken aber funktionalen Organisationstalente bestens.
High-quality leather key cases
When buying a key case, you should make sure that it is made of a high-quality material - leather, for example, is a good choice here, as it is particularly robust and durable and is comfortable to wear. In addition, leather acquires a gentle patina over time, making it even more attractive. The processing of leather requires a lot of manual work and specialist knowledge, in which we have put a lot of energy. In this way, each of our cases is truly unique! In addition, leather is a sustainable material because it is biodegradable and therefore has less of an impact on the environment than, for example, plastics. When you buy a leather key case in the Spaceproducts online shop, you are not only choosing a high-quality, but also a sustainable product.
frequently asked Questions
Are your key cases robust and durable?
Yes, because the cases made of genuine leather are additionally reinforced with sturdy seams that offer high resistance, durability and a great feel. In addition, your keys are held together securely with stainless steel screws and spacer rings.
Are the key cases available in different sizes?
Yes there is. Our Space Key Small holds up to 5 keys, and our Space Key Large holds up to 10 keys.
Where are the key pouches made?
All our key organizer products are handmade in Europe!