leather wallet
Purses are among our faithful companions in everyday life. They contain cash, credit cards, business cards, ID cards, driver's licenses and often personal photos. A leather wallet is a particularly reliable accessory that is suitable for men and women and can be conveniently stored in any jacket or trouser pocket, backpack or handbag. Order an item from our range today and offer your money and other valuables a safe and reliable home!
Leather wallets from Spaceproducts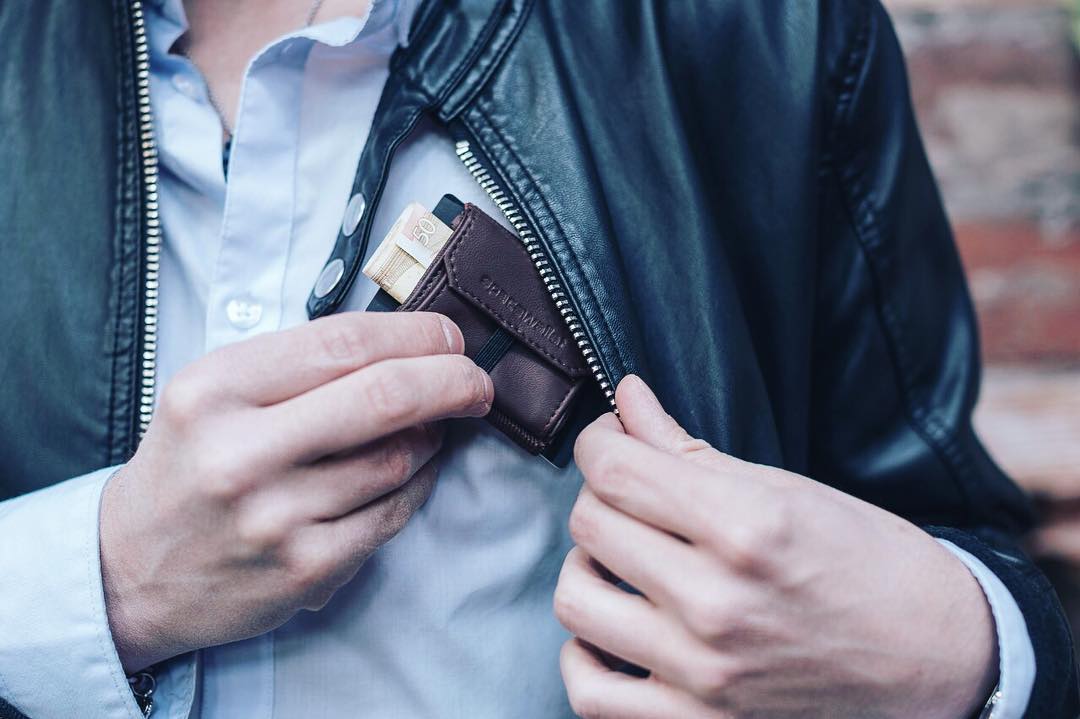 Sturdy & stylish leather wallets
Our leather wallets come in a practical pocket format. Depending on the model, like other wallets, they are equipped with compartments for banknotes, coins and cards. If there is space, there are also small hidden pockets that can be closed and opened again with a zipper or snap fastener.

The special thing about leather is above all its longevity and robustness. It can easily outlast synthetic materials, so a genuine leather wallet can even be passed down through generations. At the same time, it tolerates dirt, cold and moisture while remaining soft and supple.

Leather is a malleable and flexible material, which cannot necessarily be said for plastic. In a leather wallet you can also store a credit card, an ID card or a photo, even if it already looks full. In addition, it is water-repellent, so everything from money to precious family photos is well protected from all weather conditions.

Leather purses are visually and aesthetically extremely appealing and go well with every outfit for both men and women.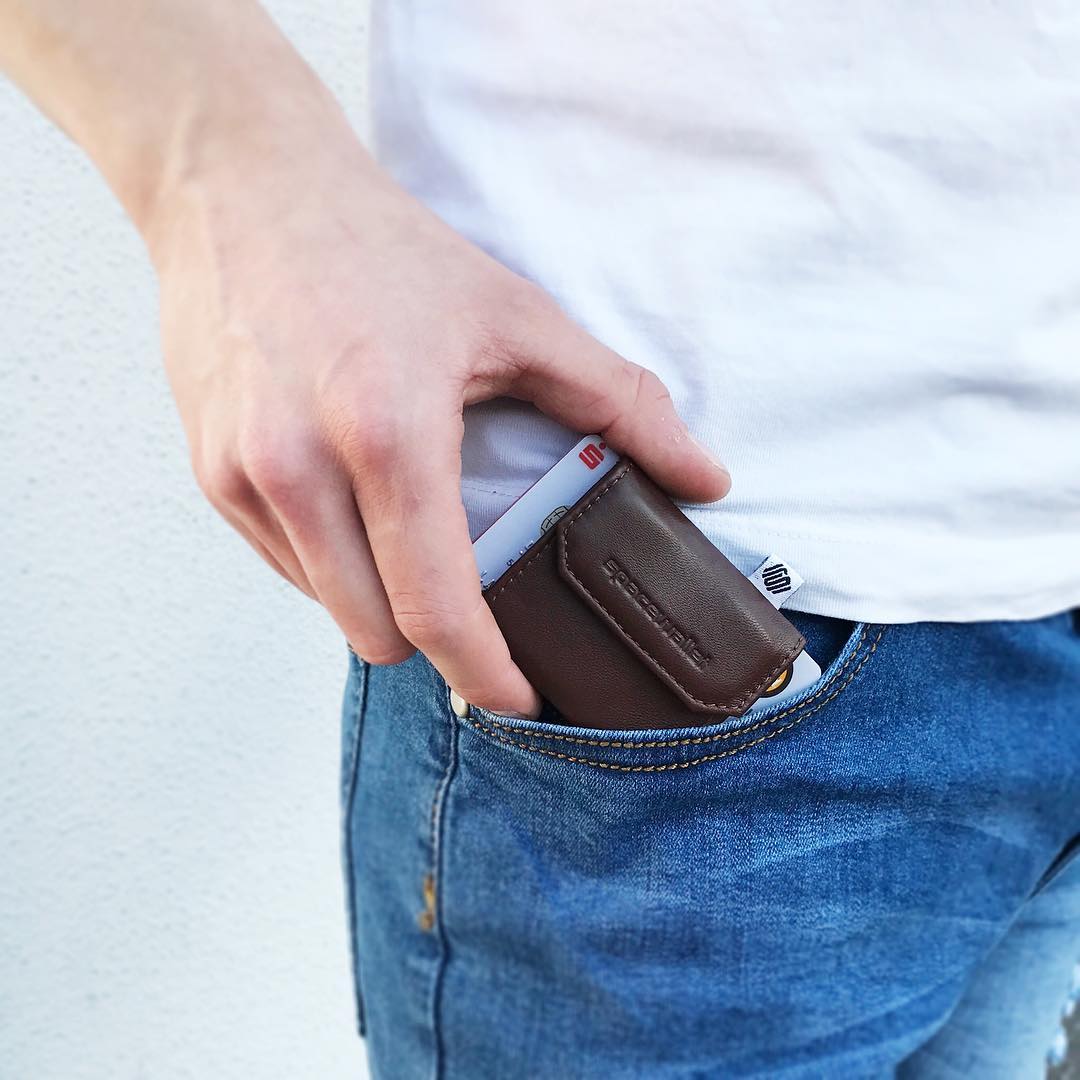 Mini wallets made of leather as a practical accessory
Advantages such as longevity, resilience, functionality and classic elegance also characterize our high-quality mini wallets. The small wallet fits in any kind of bag - no matter whether it is a pocket in jeans, a jacket pocket or a small handbag. It can be easily closed and opened again with a push button. Folded banknotes, credit cards and ID cards or driver's licenses can be removed and reinserted easily and, above all, quickly, even when closed. This saves time and gives you a quick overview of the budget you are carrying around with you.

The Space Wallets Push , Pull and Classic convince with an attractive, restrained design. You can buy these accessories in one or two colors and with an unobtrusive pattern.

We are going in a slightly different direction with the Space Wallet Peak . The color of the coin compartment flap differs from the rest of the material, which gives the leather wallet a stylish contrast and a bright touch.
frequently asked Questions
Which leather is the best for a wallet?
The best leather goods are made of so-called split leather - this also applies to wallets. This is the lower layer of cowhide that is separated from the top layer. Another popular option is the grained leather, which is obtained from the top and outermost layers. Unevenness in this material can be evened out by grinding. Full-grain leather also comes from the outer skin, but is not sanded down. In this way, the natural look is preserved and the respective leather wallet receives an individual personality. Another option is the lamb nappa leather that we use. It's soft and supple, but also full-grain, so not smoothed. The tasteful buffalo leather we use is also extremely hard-wearing, durable and tear-resistant. At the same time it is soft and flexible. Cork might not be the first material that comes to mind when we think of wallets. However, we use it for our mini wallets because it is a soft, light, water and fire resistant, odorless and dust-resistant alternative to leather.
How do you care for a leather wallet?
Proper care is required to ensure that the leather wallet remains an aesthetic eye-catcher. Impregnation before the first use can already help to protect the leather from moisture and dirt. When choosing the care product, pay attention to the material that you want to impregnate - special impregnation sprays or wax can help at this point. Afterwards, leather wallets can also be cleaned of dirt and possibly bacteria. When selecting the care product, however, the respective surface structure should be taken into account. Not every soap, foam or balm is suitable for every type of leather. You can work on models made of smooth leather with a clean cloth and foam for cleaning. Subsequent care is carried out with a special leather lotion or wax spray. Suede, on the other hand, should be kept away from moisture. This means that dirt must be cleaned with a dry cloth, dirt eraser or a cleaning foam suitable for this specific leather.
Is a leather wallet sustainable?
With the right care, a leather wallet can be extremely durable and you won't have to replace it that quickly. Genuine leather is also biodegradable and easy to recycle. If your wallet is made in Germany or Europe, it only has to travel short distances. All of this can turn leather goods into sustainable products. However, it is worth paying attention to the tanning process when buying.